Book Of The Month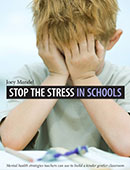 Click here for Pembroke's Book of the Month
you'll get a sneak peek at the entire text of one of our books completely free of charge!

Stop the Stress in Schools

This timely book explores the stresses exerted on today's students, and shows teachers how to reduce the atmosphere of tension and pressure in their...
Videos
Stop the Stress in Schools with Joey Mandel
It's the Friday Freebie!
Games in the Context of Drama & Ritual
Get all your students participating with enthusiasm with these games and rituals from Barrs, Barton & Booth's This Book is Not About Drama…! Students enjoy the form of games, drama, and ritual, which also generate movement, cooperation, and concentration.
Click here to download this week's Freebie.
Click here for the Friday Freebie archive.