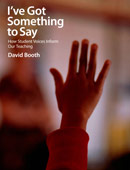 Click here for Pembroke's Book of the Month
you'll get a sneak peek at the entire text of one of our books completely free of charge!

I've Got Something to Say

Classrooms where student voices count encourage students to be more engaged with their learning, and to connect to issues that will affect their education. In...
Tips for Successful Speaking
One of life's greatest challenges, for both students and adults, is public speaking. These fantastic tips for a polished and professional speech in both content and presentation, from Kathy Lundy's Attention, Please!, will help both students and teachers speak with confidence and aplomb.
Click here to download Kathy's tips.
Click here for the Friday Freebie archive.