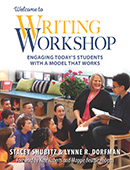 Welcome to Writing Workshop
Stacey Shubitz and Lynne Dorfman warmly welcome you to experience writing workshop for the first time or in a new light with Welcome to Writing Workshop!...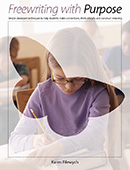 Click here for Pembroke's Book of the Month you'll get a sneak peek at the entire text of one of our books completely free of charge!
Freewriting with Purpose
In freewriting, we write continuously: we begin with a prompt and keep our pen or pencil moving throughout the entire duration. We do not stop to question or censor...
Fostering Mindfulness
Narrative Writing
Kids love to tell stories — but writing them down can sometimes present a challenge. Enter Lisa Donohue and The Write Beginning, with everything you need to get students started with narrative writing, from planning to drafts to completion.
Click here to download this week's Freebie.
Click here for the Friday Freebie archive.
Sign up for Pembroke News - the latest in teaching and learning direct to your inbox once a month, as well as unique offers and coupons.
Follow us on Facebook, Twitter, YouTube and Pinterest for all the latest news...

eBooks - Click here for a complete list of Pembroke Publishers' titles now available as eBooks.