Book Of The Month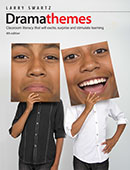 Click here for Pembroke's Book of the Month
you'll get a sneak peek at the entire text of one of our books completely free of charge!

Dramathemes, 4th Edition

In this totally revised 4th edition, Larry Swartz digs deeply into the riches of the past three books and considers the experiences of language arts teachers who...
It's the Friday Freebie!
Drama and Equity Education
Drama provides an excellent avenue to explore difficult issues. In her book, Teaching Fairly in an Unfair World, Kathy Lundy illustrates ways to use drama to bring awareness to issues such as sexism, racism, and discrimination; build complete and equitable communities; and make certain that all voices are heard.
Click here to download this week's Freebie.
Click here for the Friday Freebie archive.