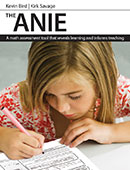 Click here for Pembroke's Book of the Month
you'll get a sneak peek at the entire text of one of our books completely free of charge!

The ANIE

The ANIE (Assessment of Numeracy in Education) is a classroom-developed tool that uses performance standards to assess student understanding of math concepts so...
Finding Poetry
Looking for great poems to share with your students? These fantastic poetry lists, from Shelley Stagg Peterson & Larry Swartz' Good Books Matter, offer a wealth of poems and poetry collections, in every genre and for any age group.
Click here to download the poetry lists.
Click here for the Friday Freebie archive.