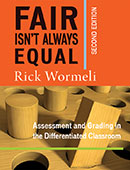 Fair Isn't Equal, 2nd Edition
Differentiated instruction is a nice idea, but what happens when it comes to assessing and grading students? What's both fair and leads to real student learning?
In this thoroughly updated second edition, Rick provides a...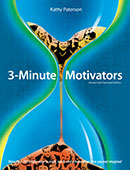 Click here for Pembroke's Book of the Month you'll get a sneak peek at the entire text of one of our books completely free of charge!
3-Minute Motivators, Revised and Expanded Edition
This jam-packed new edition features more than 200 activities to help teachers recognize and respond to the daily needs of their students, and distract, refocus,...
What Is a \"Good\" Teacher? with David Booth
Sit Down & Shush
Do your students need a quick way to step back and relax? Try Sit Down & Shush from Sheree Fitch's Breath, Stretch, Write, and help your students find their inner meditator!
Click here to download the activity.
Click here for the Friday Freebie archive.
Sign up for Pembroke News - the latest in teaching and learning direct to your inbox once a month, as well as unique offers and coupons.
Follow us on Facebook, Twitter, YouTube and Pinterest for all the latest news...

eBooks - Click here for a complete list of Pembroke Publishers' titles now available as eBooks.