Book Of The Month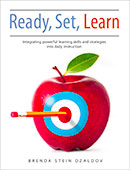 Click here for Pembroke's Book of the Month
you'll get a sneak peek at the entire text of one of our books completely free of charge!

Ready, Set, Learn

For the majority of students, the skills and work habits crucial to successful learning are not in place when they arrive at the school door. These...
Videos
Exploding the Reading with David Booth
It's the Friday Freebie!
What Are Our Roles?
As we consider classroom planning, one of the most important factors is our roles in the learning lives of students. The role of teacher is not static, and these identifiers, from Jennifer Harper & Kathryn O'Brien's Student-Driven Learning, will help you reconsider your responsibilities to students and find a better balance.
Click here to download this week's Freebie.
Click here for the Friday Freebie archive.