Book Of The Month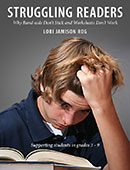 Click here for Pembroke's Book of the Month
you'll get a sneak peek at the entire text of one of our books completely free of charge!

Struggling Readers

More than temporary patches on discrete skills, the practical, classroom-tested strategies in this insightful book show teachers how to give struggling readers...
Videos
Exploding the Reading with David Booth
It's the Friday Freebie!
Putting It in Perspective...
Did you and your students observe Pink Shirt Day this week? While it's important to speak out against bullying, it's equally important for students to understand their emotions, and be able to turn negative thoughts into good ones. These activities, from Paula Galey's Keep Cool!, will help kids put their emotions into perspective, and help them to start handling their problems in more positive ways.
Click here to download the activity sheets.
Click here for the Friday Freebie archive.