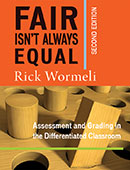 Fair Isn't Equal, 2nd Edition
Differentiated instruction is a nice idea, but what happens when it comes to assessing and grading students? What's both fair and leads to real student learning?
In this thoroughly updated second edition, Rick provides a...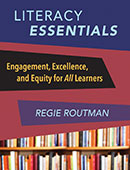 Click here for Pembroke's Book of the Month you'll get a sneak peek at the entire text of one of our books completely free of charge!
Literacy Essentials
How do we ensure that all students are engaged each day in meaningful, challenging, and joyful work and have equal opportunity to learn?
That is the central...
Pembroke Showcase 2018
Behavioral Skills: Self-Regulation
Do your students have trouble adjusting their energy levels to suit their environment or activity? These self-regulation activities, from Joey Mandel's Moment to Moment, will help kids understand a variety of energy levels, which environment they are suited to, and how to regulate their minds and bodies to adapt to different situations.
Click here to download the activities.
Click here for the Friday Freebie archive.
Sign up for Pembroke News - the latest in teaching and learning direct to your inbox once a month, as well as unique offers and coupons.
Follow us on Facebook, Twitter, YouTube and Pinterest for all the latest news...

eBooks - Click here for a complete list of Pembroke Publishers' titles now available as eBooks.