Book Of The Month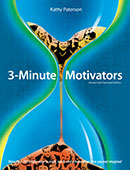 Click here for Pembroke's Book of the Month
you'll get a sneak peek at the entire text of one of our books completely free of charge!

3-Minute Motivators, Revised and Expanded Edition

This jam-packed new edition features more than 200 activities to help teachers recognize and respond to the daily needs of their students, and distract, refocus,...
It's the Friday Freebie!
Games that Encourage Talk
During the first few weeks of school, it can be a challenge to foster communication, interaction, and fun (!) among your new students. These games, from Kathy Lundy and Larry Swartz' Creating Caring Classrooms, will help students talk and listen to each other, work with language, and begin to engage with and encourage one another.
Click here to download the games.
Click here for the Friday Freebie archive.