Book Of The Month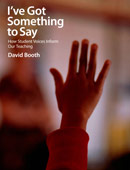 Click here for Pembroke's Book of the Month
you'll get a sneak peek at the entire text of one of our books completely free of charge!

I've Got Something to Say

Classrooms where student voices count encourage students to be more engaged with their learning, and to connect to issues that will affect their education. In...
Videos
Exploding the Reading with David Booth
It's the Friday Freebie!
Questioning Comprehension
One of the biggest challenges that struggling readers face is a lack of the critical thinking and questioning skills that they need to reach comprehension. These lists of focus questions, from Tutoring Adolescent Readers, will give even the most dependent readers a toehold in true understanding of both narrative and nonfiction texts.
Click here to download the focus questions.
Click here for the Friday Freebie archive.