Book Of The Month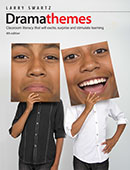 Click here for Pembroke's Book of the Month
you'll get a sneak peek at the entire text of one of our books completely free of charge!

Dramathemes, 4th Edition

In this totally revised 4th edition, Larry Swartz digs deeply into the riches of the past three books and considers the experiences of language arts teachers who...
It's the Friday Freebie!
The Simplest Drama -- Telling a Story
Even your youngest students can participate in dramatic activity -- when we make it as simple as telling a story! Short poems and familiar fables make a great starting point for story drama. Try these suggestions, along with a list of folk tales from Michelann Parr & Terry Campbell's Balanced Literacy Essentials, for promoting storytelling in your classroom.
Click here for this week's Freebie.
Click here for the Friday Freebie archive.