Book Of The Month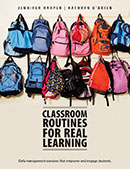 Click here for Pembroke's Book of the Month
you'll get a sneak peek at the entire text of one of our books completely free of charge!

Classroom Routines for Real Learning

Classroom routines are the sequences and order that students are asked to follow, be it walking in line through the hall, or answering...
Videos
Exploding the Reading with David Booth
It's the Friday Freebie!
Comprehension that Counts: Food Product Labels
We all know that reading comprehension is keywhen it comes to getting the most from novels, stories, and content-area texts. But what about texts we encounter everyday? Can your students decipher food labels accurately? This lesson, with activities, from Kathy Paterson's Real Life Literacy, will make reading these complex texts a snap!
Click here to download the food labels lesson.
Click here for the Friday Freebie archive.