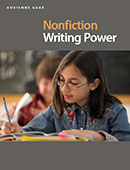 Click here for Pembroke's Book of the Month
you'll get a sneak peek at the entire text of one of our books completely free of charge!

Nonfiction Writing Power

Writing nonfiction is an important skill that students will need throughout their school lives and beyond. This remarkable book is designed to help teachers...
Write with Intention
One of the most important aspects of any kind of writing. Deciding on a purpose can take a lot of careful thought -- and a lot of work! These exercises, from Sheree Fitch's Breath, Stretch, Write, offer opportunities to stop, take a moment (or moments!) to think, and get inspired with simple breathing and movements.
Click here to download the sample exercises.
Click here for the Friday Freebie archive.