Book Of The Month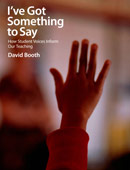 Click here for Pembroke's Book of the Month
you'll get a sneak peek at the entire text of one of our books completely free of charge!

I've Got Something to Say

Classrooms where student voices count encourage students to be more engaged with their learning, and to connect to issues that will affect their education. In...
Videos
Exploding the Reading with David Booth
It's the Friday Freebie!
A Poetic Documentary
Take poetry outside the limits of language arts — from science to social studies to history. These sample responses to historical photographs, from Bob Barton & David Booth's Poetry Goes to School, will inspire you and your students to embrace poetry as a response tool throughout the content areas.
Click here to download this week's Freebie.
Click here for the Friday Freebie archive.