Book Of The Month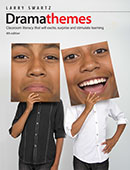 Click here for Pembroke's Book of the Month
you'll get a sneak peek at the entire text of one of our books completely free of charge!

Dramathemes, 4th Edition

In this totally revised 4th edition, Larry Swartz digs deeply into the riches of the past three books and considers the experiences of language arts teachers who...
It's the Friday Freebie!
Reading Response with Talk
Even early in the year, it's easy to fall back into assigning the same old reading response activities -- increase student engagement and give everyone in the class a new perspective on reading comprehension with these inventive activities from Jo Phenix's Talking, Writing, and Thinking About Books.
Click here to download the activities.
Click here for the Friday Freebie archive.